1961 to 1964 Power Window Conversion
This may work with other years I just don't know, I am not the one who figured this out. I am just sharing information for all to see what I did.
This uses a Power window motor from a Saturn Car. The year model is 1999 and below.
Front View noticed how it's angled? I had to put it at this angle to make it fit inside the door. When I had it pointed straight up it hit the top of the door. All works good like this.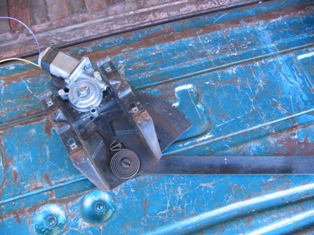 Back View. The Second Picture shows what I needed to cut out to get this angle on the motor.

To See this in operation on a old Test door click Here. Warning this is full size movie and not Dial up Friendly. Yes that's JT (My Son) helping with the wire's

This is the Document that tells all I know on this Conversation. It is 2.95 MB for download it first it will be quicker.